Few days ago, your No. 1 Yoruba podcast, OHUN AANU forged ahead with the launch of Ohun Aanu mobile application. The excitement is still in the air and people all over the world has been going to Play Store and Apple Store to download and install it to their various devices.
As more and more people asked questions about the app, there come the need to help you understand the various features of the app so that you will make the most of it and have full experience of what the app have to offer. I will also give you a step-by-step lesson on how to download, install and use the app.
How to download and install Ohun Aanu Application
Go to Google Play Store if you are using an Android phone or to Apple Store if you use iPhone.
Write Ohun Aanu in the search box and click search.
The application will probably be the number one app the search result will return. The icon will look like this.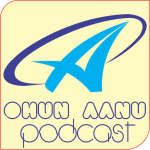 Click the Ohun Aanu icon and click the download option.
When it finish downloading, it will automatically install into your device and create shortcut on your phone home screen.
Click open after installing or go back to the home screen and click the icon shortcut and you are on!
Ohun Aanu Mobile Application Features
The features of the mobile app is amazingly easy to use.
a). PODCAST: Every week, new episodes are published. You will not need to download the podcast from anywhere. Just click the "podcast" feature of the app and you have access to the new episode and indeed past episodes. Click play and it will play continuously.
b). BLOG POST: This feature is where articles are published. Most of it are the highlight of Bible Study (this will help you to do personal study) and some of these articles are personal thoughts of Pastor Sam Adeosun.
c). MORNING DEW: This feature will take off very soon. It is a 5-minute weekly audio devotional with Pastor Sam Adeosun.
d). MERCYGATE RADIO: This feature is the Radio ministry of Mercygate Gospel Church. It is still test-transmitting and will host series of quality Christian programming. This is also the place where audio live streaming will be broadcast live to the world.
e). LIVE STREAMING: We hope to start broadcasting live worship services from Mercygate Gospel Church on this features.
f). SOW A SEED: Because several children of God ask us each day on sowing a seed into our ministry, we create this feature to cater for this demand. If you are led by God's spirit to give to our Ohun Aanu project, you can now do it seamlessly using this features. One amazing opportunity this offer is that, you can give in Nigeria currency (Naira), yet use your dollar/pound Credit Card. This feature also afford you the opportunity to give your tithe or offerings
g). SOCIAL CHANNELS: This is the social channel feature where you will be able to connect with Pastor Sam Adeosun on the available social media.
h). CONTACT: This feature have contact form where you can send messages directly to Pastor Sam Adeosun and receive prompt response.
i). WHO WE ARE: This feature give a brief essay about Pastor Sam Adeosun.
Lastly…
I do hope you will find this guideline very rewarding. All glory and honor to God for using His people for this good work….Ohun Aanu ntes'iwaju